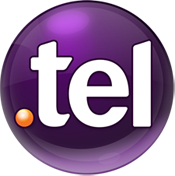 .TEL is a unique domain extension because it doesn't require separate hosting, nor does the domain owner need to know how to create and manage a website to use it. It is a global directory that stores all your contact information directly in the DNS. Users can add, remove, and modify their contact quickly and simply, and changes are reflected immediately. As of December 2009, there were over 275,000 registered users of .TEL domains.
Numeric-only and short .TEL domains
Beginning on June 14, 2011, numeric-only and short .TEL domains became available on a first come, first served basis. Domains consisting of seven or less numbers or any combination of seven or less numbers and hyphens are now allowed. Additionally, some two-character .TEL domains were also made available, with the exception of any two-letter country code domains (i.e. uk.tel).
Why register .TEL?
A .TEL domain is a little different than regular domain names. Here are some reasons you should purchase .TEL domains:
You do not need web-design skills or hosting – everything is saved within the .TEL system.
You can easily publish your contact information – phone/fax numbers, VoIP and IM handles, email addresses and website links – while protecting any or all of it using the built-in .TEL privacy features.
You will be more accessible, as .TEL domains can be reached via web browser, smartphones, or other mobile internet devices at any time.
You will benefit from automatic SEO – .TEL listings are optimized for search engines like Google and Yahoo.
You can take advantage of .TEL integration to allow for easy updates and real-time changes to contact information on your existing websites.
Registering a .TEL as an inexpensive complementary web service that will help you get found online and drive traffic to your regular website.
Starting June 14, 2011, the .TEL Registry has begun to allow certain numeric-only and also some two-digit, short .TEL domain registrations.
DomainDomino™ is ready to support these new .TEL domain variants and they are available to anyone on a first-come, first served basis at standard .
What is permitted?
Domains containing up to seven numbers or a combination of up to seven numbers and hyphens will be permitted. Additionally, certain two-character .TEL domains are now allowed.
Some examples of permitted domains:
1234567.tel
123-456.tel
40404.tel
411.tel
aa.tel
a1.tel
What is not permitted?
For short domains, single digit or two digit .TEL domains that are current ccTLD country codes are not permitted. Domains with a combination of numbers and hyphens totaling eight or more characters are not allowed.
Some examples of domains which are not permitted:
12345678.tel (more than seven characters)
123-456-7890.tel (more than seven characters)
1.tel (single digit domains are not permitted)
a.tel (single digit domains are not permitted)
uk.tel (uk is the country code for the United Kingdom)
ca.tel (ca is the country code for Canada)