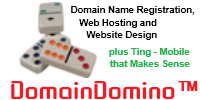 Almost everyone doing business on the net is looking to find a corner or a niche to place another domino stone to promote his/her web site more efficiently. Therefore the Internet is kind of like a domino board and domain names play an important role in this game.
Registering a domain name is becoming increasingly cheaper. We remember when we registered our first domain – we paid $100 to Internic for two years. And on top of that we paid $49 to the registration firm that did the legwork for us. We were still total newbies then, didn't know as much as we know now and times were slightly different back then, too. Now, as you may know, registering a domain has become quite affordable for almost any small business. The competition between the different registration firms encourages a steady run to offer better and better deals to gather customers.
Because the Internet is all about networking and promotion, mirroring web sites using different domain names is a great way to gain more exposure and better placement in the search engines. We have been doing this for quite some time with good results.
Let us show you some affordable ways to mirror your site without paying an arm and a leg for it. Look at some of the web sites we have tested ourselves. Send us your personal experience about any of the listed resources so we can either highlight them or remove the link.
We've posted our prices and services but please feel free to visit the other web hosting companies recommended on our site – you may find a better deal than what we're offering. If you do, please let us know about it. Either way… check back often. The nature of the Internet is such that prices may keep going down.
We at DomainDomino™ host clients from many different countries and we are able to host domains with extensions from any country around the world. Currently we host domains with the extension *.ag, *.at, *.biz, *.bz, *.cc, *.ch, *.com, *.in, *.info, *.net, *.org, *.to, and *.ws. And we do not mind to give you a hand to register a domain in a foreign country because it sometimes can get quiet a bit confusing. We aim to serve you fair and to us it is fare more important that you are a happy customer than that we make a commission or small referral fee with a firm with who we our self wouldn't register a domain with.